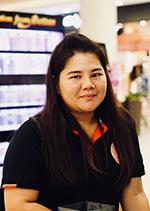 Thai breeder reveals why her farm is the best choice for purchasing fighting fish, and her dreams to extend into overseas markets.
After the Siamese fighting fish was recently declared Thailand's official aquatic animal, Thai breeders in Nakhon Pathom province expect the fish to become more popular in both domestic and overseas markets.
According to the Ministry of Commerce, Thailand exports about 23 million fighting fish (betta fish) annually with a total value of US$4.15 million (130 million baht), a figure projected to grow significantly in the next few years.
Jeerarat Srisuwan, the owner of Kanasanan Farm, which breeds betta fish in Nakhon Pathom, is seeing a higher demand from overseas markets. Her farm exports the fish through dealers to many countries across the world, including Japan, China, the US, Russia, Romania and other European countries.
"We have received more orders from customers and expect growth in the longer term," she says. "Whenever someone thinks of fighting fish, he or she must think of Thailand as we supply colourful and beautiful fighting fish."
Srisuwan herself knows the fish well, as she was born into a family of betta fish breeders, which has been in this business for over three decades.
"My farm supplies different types of fighting fish, and if we do not have what customers are looking for, we will get it from our network of farms, including my parents' and sister's," she says.
Although Kanasanan Farm normally trades in wholesale, it does sell some betta fish to individual buyers.
"Some customers have bought fighting fish from my farm, and they raise them until they have more beautiful colour and re-sell those fighting fish at higher price," she says.
Knowing customers' preferences is very important for breeders such as Kanasanan Farm.
"Customers in the Europe and the US like long-tail fighting fish, such as Half Moon, while the Japanese prefer light-coloured fighting fish, such as white and yellow. Malaysians and Singaporeans love short-tail fighting fish and plakat mor, and the Chinese prefer fighting fish with red, green and blue colours," Srisuwan says.
Thailand's fighting fish are different from the others in several aspects including shape and colour.
"With a knowledge of fighting fish breeding, which has been passed on from generation to generation, and abundant food, breeders in Thailand, especially in Nakhon Pathom – the centre of fighting fish breeding –, can breed and supply high quality colourful fighting fish to the world," Srisuwan says.
From now on, she is looking for potential export markets. "We want to boost our exports and China is one of our target markets in the future. Chinese customers prefer low-price fighting fish but they buy in bulk."
For more information, please email [email protected]
Photo courtesy of Kanasanan Farm
Words by Somhatai Mosika